COMPLETE IDE-LIKE CODE EDITOR FOR WORDPRESS
The Code Editor for WordPress
CodeKit is the one and only plugin that provides integrated IDE, supporting wide range of
languages 1 and powerful code management interface in the marketplace.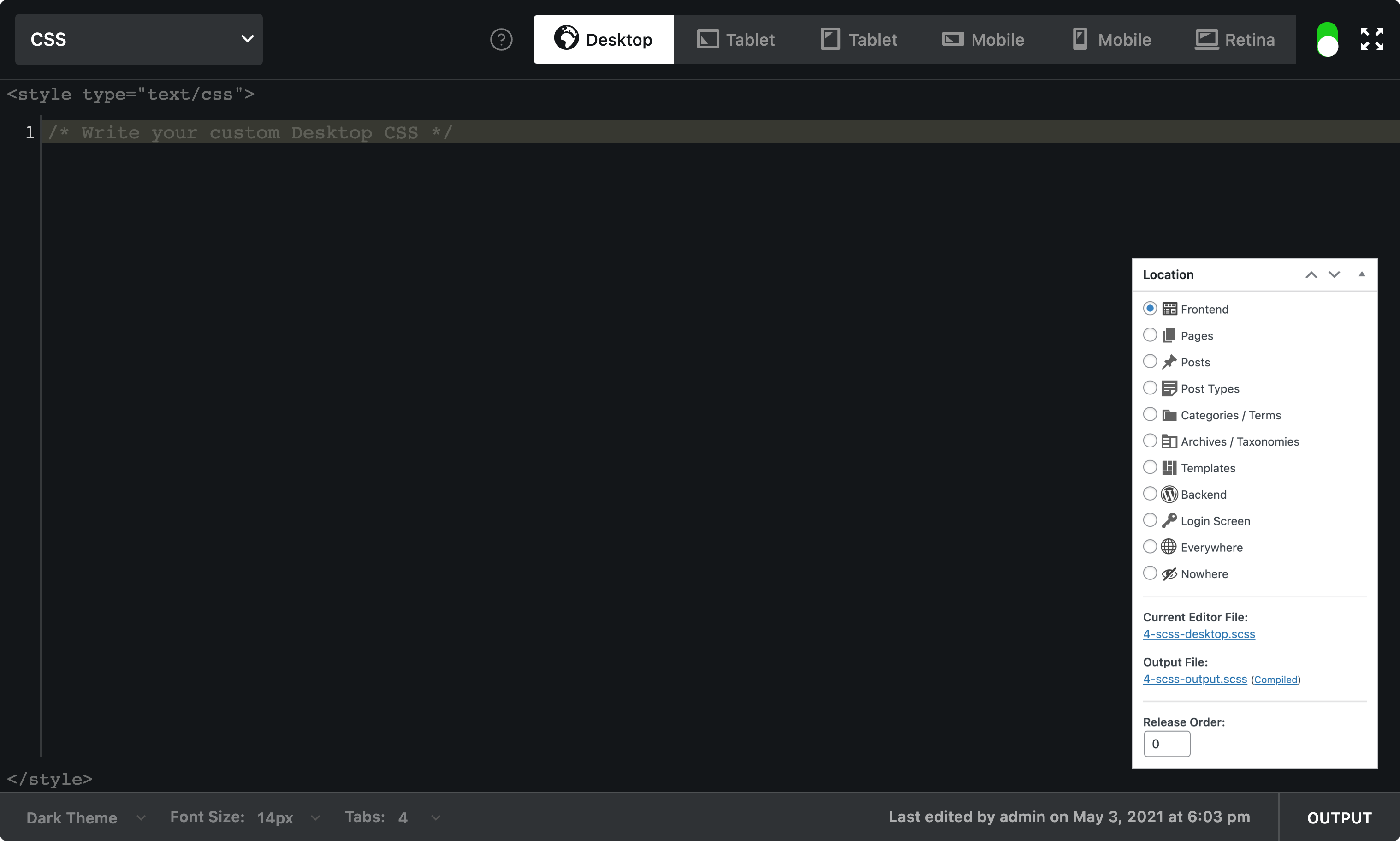 Core Features
Natively integrated IDE
on your WordPress Admin
Wide-range of language support
CodeKit is the one and only plugin that supports more than 10+ languages in a single plugin. Do range of improvements without worrying about compilers and compatibility.
Device specific development
Still not tired of writing media queries? Give it a try to editor device tabs for device-specific development. They are pre-configured according to the standards but you can always change it in the settings.
Basic code deployment
Sometimes all we want to deploy a simple code block to single page. This is where Code Locations come in to play. Easily select the location/page and deploy your code.
Customizable IDE
We all know that developers are loyal to their IDE's because all of the extensions, the interface, the colors and even typography. With CodeKit, you can customize your integrated IDE easily and make it more like your local IDE.
PRO Features
Take full control and
do more on your website
Extended language support
Keep developing and adding code snippets with the language you're comfortable with. Extended language supports wider range of languages which make you feel home when developing with out-of-box languages.
Code includes
Bootstrap lover? Maybe Tailwind? Maybe you just want to include a font, or icon pack through CDN? You can practically include any type of code, to your existing code snippet with few clicks.
Advanced code deployment
Deploy your code on not just front-end or admin area, but all the pages, custom post types, taxonomies, archives and templates. This is the place where you have all the control over your code deployment.
Code Hints, Folding & Groups
Tidy up all of your code snippets into groups, fold them, get hints while you developing. The perfect developer suite for who hates the spagetti codes.
Comparison
Compare Features
Pricing plan comparison

Feature by

Plans

Free
Pro
Pricing

Free

Add custom SASS, CSS, JS, PHP and HTML codes to your WordPress websites.

Download Free

$39 /year

Extra Languages, Editor Enhancements, Advanced Code Release Locations, Includes GUI, and much more.

Buy Pro Now

Supported Languages
CSS

Included in Free

Included in PRO

SCSS

Included in Free

Included in PRO

JavaScript

Included in Free

Included in PRO

HTML

Included in Free

Included in PRO

PHP

Included in Free

Included in PRO

LESS

Not included in Free

Included in PRO

Stylus

Not included in Free

Included in PRO

CoffeeScript

Not included in Free

Included in PRO

PUG

Not included in Free

Included in PRO

Editor Features
Save with Cmd/Ctrl + S

Included in Free

Included in PRO

Emmet Abbreviations

Included in Free

Included in PRO

Various Device Media Query Editors

Included in Free

Included in PRO

Basic Code Release Locations
Frontend, Backend, Login Screen, Everywhere, Nowhere

Included in Free

Included in PRO

Advanced Code Release Locations
Page, Posts, Post Type, Categories / Terms, Archives / Taxonomies, Templates

Not included in Free

Included in PRO

Code Folding

Not included in Free

Included in PRO

Code Hints

Not included in Free

Included in PRO

Code Includes

Not included in Free

Included in PRO

Code Groups/Categories

Not included in Free

Included in PRO

Support
Email & Support Forum

Included in Free

Included in PRO

Priority Email

Not included in Free

Included in PRO

Choice

Download Free
Buy Pro Now
Testimonials
Trusted by 3000+ WordPress Users
Since our first release, we've listened our users and improved our plugin continuously which brought us
more than 3000+ users who think CodeKit is awesome and uncomparable to other plugins.

"Version 2.0 made this plugin worth paying for, but it's free! Just wow, it's the best plugin for custom code on the market, now. How cool is that!"
- Martin Braun
on WP.ORG

"I have tried many plugins for adding custom code, and this is the best by far. Add all of your custom CSS/SASS and JavaScript/jQuery in one place. Robust code editor with error notification, line numbers, good use of colors, separate tabs to keep media queries organized. SASS is compiled automatically. It's like having an enhanced version of Sublime Text built directly into WordPress!"
- kblatt0830
on WP.ORG

"This is so cool, I think it will be the future of the coders on WordPress."
- afmarchetti
on WP.ORG
This plugin is a must have, it is the best code editor, lets you manage CSS SCSS, JS, PHP…, and presets tabs to manage you responsive code. Time saving, clean editor, looks like simple text inside your WP admin. Simple and yet most advanced plugin, indeed! And support is ultra fax and very friendly."
- robin2014
on WP.ORG

"The editor is perfect! Emmet expansions, breakpoints as tabs, editable breakpoints, keyboard shortcuts, SASS! Javascript as well. Very impressive and better than most other "pro" plugins. So well done. "
- @cunnningstunts
on WP.ORG

"I actually use another plugin for custom codes but used this one just once. Had a problem which driven site down. But the safe mode feature was just a life saver. Thank you plugin developer! "
- Sohan Zaman
on WP.ORG
Get started with the

#1 Code Editor for WordPress